(random black silk pocket tank, forever 21 heels, house of harlow ring, diy skirt)
this diy was inspired by another blogger… the lovely kathleen of
Inspirafashion
. she asked me how to make a scalloped hem short/skirt and i liked the result so much I thought I'd share with you all. thanks for the request… such an adorable idea! hope you enjoy! :)
Friday, January 28, 2011
Sunday, January 23, 2011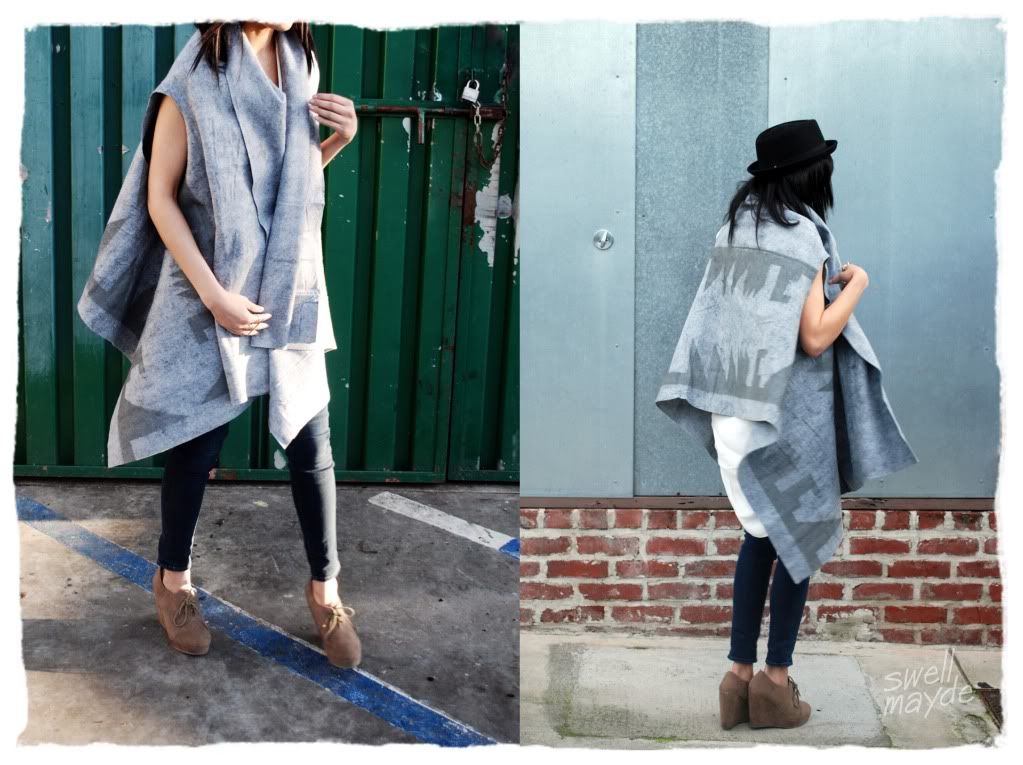 Hello friends!! Here is the first SwellMayde project! :)
Graphic prints continue to catch the corner of my eye... I won't necessarily wear it head to toe, unless I'm on a beach holiday, but I do love it in small splashes here and there for my everyday life… or even take the minimal route and go monotone, like the project above.
I wanted to share how to create a vest that gives you the opportunity to add a little print in your wardrobe, without it being too overwhelming. It's as simple as… buy the fabric, measure it, cut armholes, and spray paint your design. And if prints aren't your thing, I think the vest is still pretty cool without it.
Friday, May 13, 2011
DIY ethnic wrap clutch
I was instantly on the hunt for the perfect fabric. This past weekend, I went to the Pasadena Rose Bowl flea market and found a saddle blanket with the color combination I had originally envisioned. I love that it can spruce up any outfit with ease… I would definitely wear it with a white top, jeans, and boots. Enjoy!!
abric Necklace Tutorial // From Jenni
Ombre. Lace. Loose.
Supplies:
- Sewing machine and thread (or needle & thread)
- 1 yard of stretch lace, 100% polyester. I used white lace from Fabric.com
- Scissors
- 1-3 colors of RIT Dye, depending on your preference.
I used Teal, Tangerine and Wine**
** I'll say this right now, but I'm fully aware RIT Dye isn't recommended for 100% polyester. It says so right on the box. However, I'm stubborn and try to break crafting rules all the time. (ALL the time).
1) Fold the yard of fabric so that the fold is along the top. If you'd like, trim some off at the end.
Mackenzie
didn't, so her shirt had a little more "flow" to it. I did - about 6 inches - as you can see above. This is entirely up to you; both options will result in different yet equally awesome shirts. It'll also depend on the size of your final shirt and how loose you want it to fit.
3) Rinse it off until the water runs clear.
4) Bring in the next color. Next up was the Tangerine. I used a bigger bucket and dyed pretty much the entire thing, letting the blue edges hang off the sides. I took the lace and dipped/held it into the dye, so that everything up until the blue was dyed orange.
5) Rinse it out until the water runs clear.
6) And for the Wine...
Same process, same bucket. I just made sure that there was some orange visible, as I dipped and dyed.
7) Rinse until the water runs clear.
8) Hang to dry, at least overnight!
9) Fold in half, like you did in Step 1.
10) Fold again, horizontally.
11) Cut out your neck hole. I'd recommend
not
cutting out a big piece; start out small, because you can always cut more later after you try it on.
When you unfold it, it'll look like this.
12) Sew it up! One straight line on each side. The arrows indicate the general areas where I sewed. They were about 6 inches from the side, but this may differ for you depending on the overall size of your fabric. It'll also depend how loose or tight you'd like the shirt to be, as well as the size of your shirt, your height, etc.
I noticed that it's practically impossible to sew a perfectly straight line on stretch lace. You can barely even see the stitches when you wear the shirt, though.
This can easily be done without a sewing machine. All you need are straight running stitches, so this can be done through the lace with some needle and thread, by hand.
I'm kind of in love with mine, because it's so versatile. You can throw if over your bathing suit for a beach cover up. Or you can wear it with a bandeau like I did above (my bandeau is black jersey) for a lightweight, loose fitting summer shirt - also great for the beach. Or you can just wear it over a tank top and call it a day.
Thanks again to the lovely
Mackenzie
for letting me adopt her project.
I'd also recommend dying your lace - or any fabric, really - outside, if you can. I'm not really sure why I did this in the bathroom.
More summer clothing projects coming soon! I'm always on a roll with clothes projects during the summer. I'm already working on three more.
xo,
Friday, May 27, 2011
Of course, I set out to make my own version. I knew if I got a "real" trench coat - knee length and all - I wouldn't use it that much. Long jackets just make my 5'2" self look even smaller.
So I was pretty psyched when I came across this trench coat - esque jacket a few months ago at TJ Maxx. It was $19.99 and I knew exactly what I was going to do with it.
I decided to cover the pockets with leather, so I traced the pocket flaps onto soft black leather. I might add some additional leather elements to the coat at a later date.
I'm thinking of completely replacing the belt with a black leather material; the fabric of this belt is wayyyy too thin and scrunches up at random places (as you can see above)...But, one step at a time! I'm just glad to have finished the tedious stud part.
CELEBRATING 100+ FOLLOWERS! - book clutch for 100 pennies!
I asked for challenges and AWESOME follower
Rachel
from
Maybe Matilda
suggested I create something using 100 pennies. I instantly! thought about the cool clutch I had been saving from the thrift store. I have been majorly inspired by
this amazing tutorial
from
See Kate Sew
. I have been wanting to create one for.eve.AH. Here is mine!
here is the sweet .99 cent clutch I got from the thrift store months ago.
so...why I have I been waiting so long to create this??? Honestly? I could NOT find a vintage book, you know the hard backs that are cloth covered? I could not find one in the appropriate size or color. But I really wanted to use the clutch for this post so I improvised and covered a plain old book with fabric! WAHHOO! I LOVE the results!
DISCLAIMER: If you are my grandma - please be warned I am going to "destroy" a perfectly good book.
DISCLAIMER 2: If you are my sister - please be warned I am going to "de-face" currency
I started with the following goodies:
99 cent clutch
book. Dont worry! It isnt a cool vintage book! It is a boring college book. see? It's ok.
Mod Podge
scissors
exacto
adhesive - I used E-6000
foam brush
embellishments - I used some synged satin circles to make a flower
step 1. DESTROY THAT BOOK! very therapeutic.
"measure" your fabric
coat the outside of the book cover with mod podge
smooth the fabric over the book. be sure to press it into the creases of the spine. get all the air bubbles!
I put the pages back in and squeezed it down to make sure i had the stretch/shape just right
Flip it over and cut a few slits where the spine is. Like this:
mod podge the fabric into the cover
I didnt take a pic of the gluing process but you just glue in the clutch
I added the penny so the project would cost the full 100 pennies!
The big bummer. this is just about 1/8" too short to hold a kindle. I think it would be a GREAT kindle case!
I hope you like it!!
Mirror, Mirror on the...
Skirt!? Apparently Thakoon Panichgul took it upon himself to rewrite the famous fairy tale line when designing his Fall 2009 collection. The Thailand-born wunderkind added tiny bits of broken mirror to jewelry, shoes, and even a
jacket
and
skirt
for his runway show. No more interrupting your evening to run to the ladies room when you can check out your reflection on your own clothes! With just the perfect touch of surrealism, this piece travels effortlessly from catwalk to sidewalk. Whether partying with
Patrick Bateman at Canal Bar or meeting your girlfriends for dinner at Espace
(80's are so hot right now) Thakoon redefines basic black.
What You'll Need:
Black skirt

Mirror mosaic tiles

Fabric glue
Line up your first tile in the bottom left corner of the skirt, just above the seam. Glue to the skirt by rubbing some fabric glu directly on the material and pressing the tile on top [Note: If you can find mosaic tile with sewing holes on either side, I recommend sewing them instead] .
Next, work your way out from the bottom by gluing pieces above and to the right. Continue adding on until you covered as much of the skirt as you like.
Shown with hot pink DIY
woven lanyard necklace and Chanel
Dit is zooo cool!
(stappenplan via melodysblog.tumblr.com)
(foto via http://intangibleee.blogspot.com)